How all this madness began ...
| | |
| --- | --- |
| | My wife, Stephanie, tells her friends that she has no idea how she married a man that would park a huge dog truck in her suburban driveway.I still don't know how it is that I got to be a guy with a huge chassis mount dog truck filled with six dogs, who drove over 30,000 miles last year to compete in field trials across the country. It's a mystery. |
Ever since I was a little boy, I wanted a dog. I can still remember my delight when my mother placed Rin Tin Tin on my fourth birthday cake. But, my father never really liked dogs, and so I had to satisfy my yearnings by playing with other people's dogs, by reading about dogs in books like Jim Kjelgard's Big Red, and, of course, seeing Old Yeller time and time again.
I still can't figure out why, but the fact remains ... I have been and remain ... just crazy about the dogs.
In the early 1980's, while I was driving down a highway near Modesto, California, I saw a bunch of people in white jackets with dogs and decided to stop. It turned out that I was at a Retriever Field Trial. I was amazed at the power and grace of the dogs, and the precision with which they answered their handler's commands.
I decided that I would learn how to train a dog to do what those dogs did. I got a copy of Tom Quinn's The Working Retrievers (a lovely book, which I recommend highly) and read every book on dog training I could find.
| | |
| --- | --- |
| | Eventually, I bought a beautiful show lab, Murphy. Every morning and evening, I would be out in the fields, teaching Murphy basic obedience, and afterwards, baseball as described in James Lamb Free's classic, Training Your Retriever. |
Neither Murphy nor I knew that show labs couldn't compete with field labs, so I entered Murphy in a number of local fun trials, where he did quite well. Unfortunately, Murphy died unexpectedly at age two. Afterwards, Chance, the first of many field bred Labrador retrievers that I have had the pleasure to own, entered my life.
Up until Murphy's death, I had trained on my own. When I got Chance, I thought it might be good to hook up with some more knowledgeable folks. By sheer happenstance, I read an ad in the Denver Post about some guys who were starting a Hunting Retriever Club and announcing a preliminary meeting. I decided to go ... and shortly afterwards, together with Mike McConnell, Dale Flenthrope,
Gary Brady, Rich Carpenter, Ken Erikson, and others, started the Platte Valley Hunting Retriever Club.
| | |
| --- | --- |
| | I had a great time hunting, training, and participating in hunt tests with those guys in the Platte Valley Hunting Retriever Club ... and recommend to those of you who love hunting with their retrievers and training them that you join an American Kennel Club (AKC), Hunting Retriever Club (HRC), or a North American Hunting Retriever Association (NAHRA) club. |
Work prevented me from remaining active in the dogs, and so I took a break until 1998. A new job gave me more free time, and I decided to get into the field trial game. Cherylon Loveland, a professional trainer whom I had consulted about getting a field trial dog, recommended a puppy from a litter bred by John and Liz Hollman in South Dakota.
Freeridin Wowie Zowie
I took Cherylon's advice and got a precocious male, whom the breeders called "Boss Hawg" because he was the biggest and most active puppy in the litter. I later named that puppy "Freeridin Wowie Zowie."

I wanted my kennel name to be Freeridin, because I had gotten involved in snowboarding. Expert snowboarders, who could ride all over the mountain without regard to the difficulty of the terrain were known as "freeriders." I wanted my dogs to be just as versatile. Good at home, in the field, and in competition.

Zowie was named after a gumball machine that sat in the restaurant where our training group ate after a day in the field. I've included a photo of the Wowie Zowie Gumball machine for you to see.
At our first derby, I had no idea what was happening. When Zowie was returning from a retrieve in the first series, I got my leash out of my pocket - and the judge said "Your dog did a nice job, you don't want to stop playing, do you?" I told him I didn't know what he was saying. He told me to put my leash in my pocket. I did. After we left the line, the marshal told me that taking your leash out while your dog was still in the field meant you were through. Whew! Were we ever green.
Well, the bug bit me. Hard! I traveled to Montana, Kansas, Nebraska, and of course, throughout Colorado to run Zowie. He was getting wild, and I was still pretty green so we stopping running Zowie at 20 months of age with 16 derby points.
| | |
| --- | --- |
| | In the years since then, Zowie and I have had some great times together. We have competed in Field Trials in Arizona, California, Colorado, Idaho, Kansas, Montana, Missouri, Nebraska, New Mexico, Oklahoma, Texas, and Utah. |
But nothing can compare with the thrills we had in McCall, Idaho at the National Amateur Retriever Championship. Just four years after we had run our first derby (and I had almost gotten us disqualified by pulling out my leash), we were competing against the best dogs and handlers in the country in a week of grueling competition.
At first, all I wanted to do is make a respective outing. But, as the competition continued, and our performance improved, I decided that I wanted to be a finalist. After six days of competition, my goals changed yet again. I no longer wanted to be a finalist - I wanted to win. Well, that didn't happen. But, we were one of the select group of handlers and dogs who could claim that they had finished a National. Pretty darn exciting. Amazing, really, when I stop to think about it.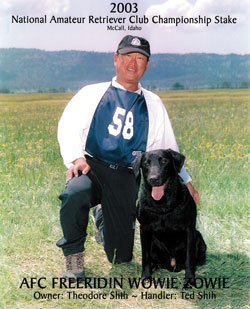 Since then, Zowie's brother, Ace, and I have been to two Nationals - the 2003 National Open Retriever Championship and the 2004 National Amateur Championship. We didn't finish either, but we went 7 series in each, and I was pretty happy with our performance.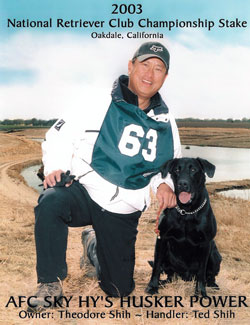 In the meantime, I have added Mootsie and Buffy to the Freeridin crew. All of my dogs have been capably trained by my good friend and mentor, Cherylon Loveland.
It has now become my dream that some day, I will be able to compete with Ace, Buffy, Mootsie and Zowie at the same National! Hard to imagine - but who would have ever thought that Zowie and I would be National Finalists after only four years of competition?
When Zowie and I began training with Cherylon - and before I had run any field trials with him - I told her that I wanted to be a National Finalist. Cherylon never said anything about my dream to me, but after Zowie and I finished the 2003 National Amateur in McCall, she told me that - at the time - she thought I was insane. And, of course, as you know by now, I am.
I guess all I can say is that it doesn't hurt to dream big. Just ask Cherylon - and Zowie.
I breed my girls and watch their litters as though their puppies were going to my friends ... because they do.
If you decide that you would like a pup from one of my girls, rest assured that I will do everything in my power to make sure that those puppies are as well bred and well raised as they can possibly be.
I treat each litter as all of the puppies were going to my friends ... because they do.
My first breeding was of a nice qualified all age bitch, Trumarc's Wendy, to a talented young male, Archer's Paradox, whose sire was NAFC/CNAFC FC/CFC Ebonstar's Lean Mac and whose dam was AFC Trumarc's Ms. Costalot. Four puppies from that litter went to my friends. Those dogs, who turned three in the fall of 2004, have performed remarkably well:
Cache La Poudre Osmerus (Ozzie), owned by John Goettl, 16 derby points, Amateur fourth and multiple Qualifying placements.

Mr. Oliver D. Place (Ollie), owned by Grady Peacock, 14 derby points, two Qualifying seconds, and multiple other Qualifying placements and finishes.

Trumarc's Tickled Pink (Pinky), owned by Joe Piland and Pam Ingham, Open JAM and two Qualifying wins before age two.

Huntpup's Freeridin Water Witch (Hazel), owned by Bev Ensley, derby points, Qual win and second.
When you get a puppy from one of my litters, you are getting a puppy from a litter I have bred and raised for my friends. I think that care and attention shows ... and hope you do, too.
Dogs to match your dreams ... Freeridin Retrievers
I know I've rambled a bit. But, I thought you should know a little about me and my dogs. I have hunted with my dogs. I have run hunt tests with my dogs. And I have competed at the highest level of field trials with my dogs.
Each of my four dogs is a proven competitor. They are structurally sound. They are handsome. They are great companions. Really, you can't ask for more.
When you are looking for a dog to match your dreams - at home, hunting, or at the highest levels of retriever competition - I hope you will consider a Freeridin Retriever.
If you are interested in breeding your girl to one of my boys, or being put on the waiting list for a puppy from one of my girls, please give me a call.
Until then, dream big. You might just surprise yourself with what you can accomplish. I know I have.