AFC Freeridin Wowie Zowie

"Zowie"

2003 National Amateur Finalist
33.5 All Age Points
National Derby List
16 Derby Points

Hips: LR-105984E26M
Elbow: LR-EL10720M26
Eyes: LR-35742N

Zowie has no Lean Mac, Cosmo, or Code Blue in his pedigree and offers a wonderful out-cross to bitches from those lines.

Zowie throws chocolate and black puppies.
Zowie was my first Field Trial dog. I put a crate in the back of my pickup and drove all over the country running in the Derby, where we collected 16 Derby Points and made the National Derby List.
Four years later, we were invited to compete with the best retrievers in the country at the 2003 National Amateur Retriever Championship. After a week of grueling tests, Zowie and I were finalists. What a wild ride and a dream come true!
I have handled Zowie to all of his 33.5 All Age Points, which include an Open 2nd and 3rd.
Zowie is a wonderful marker, who runs with authority and power. He weighs a muscular 80 pounds and has the handsome head of the traditional Labrador Retriever. Zowie is also a playful companion and wonderful in the house.
Competition doesnít build character, it reveals it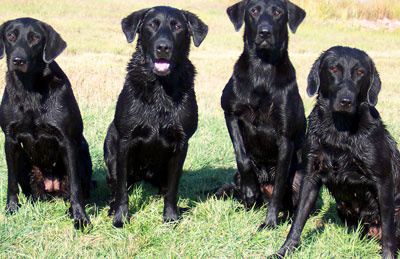 At the Fall 2004 Nebraska Dog and Hunt Club Field Trial, Freeridin Retrievers took first in the Amateur, Qualifying, and Derby. From left to right, Freeridin Smooth Operator (Qualifying 1st), AFC Sky Hyís Husker Power (Amateur 1st), Freeridin Vampire Slayer (Derby 1st), and Duncanís Britt (Qualifying 4th) - all dogs handled by Ted Shih.
AFC Sky Hyís Husker Power

"Ace"

Qualified for 2004 National Am
(7 Series)
Qualified for 2004 Nat Open
(7 Series)
28 All-Age Points

Hips: LR-105843E26M
Elbow: LR-EL10697M26
Eyes: pending

Ace throws chocolate and black puppies.
Ace was first owned by Bill Frank, a man proud of his Nebraska roots and his service as a pilot in the Naval Air Service, where he downed several enemy planes in World War 2. Hence, Ace's registered name - Sky Hy's Husker Power. When Bill developed health problems, I bought Ace and he joined his litter mate, Zowie, in training with Cherylon Loveland. At first, Ace lagged behind Zowie. He has since caught up with his brother. Ace and I have logged 28 All Age points together, including an Open Win, and an Open Second. Like his brother, Ace has been invited to compete against the best dogs in the country. Ace and I went 7 series at the 2003 National Open Retriever Championship and 7 series at the 2004 National Amateur Retriever Championship. Ace is an excellent marking dog.